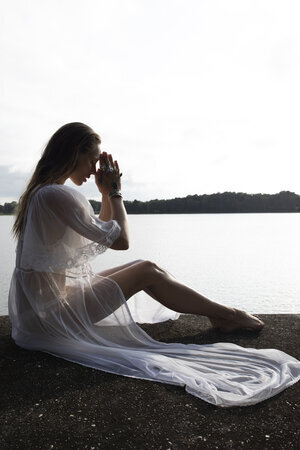 Hello, I'm Zuzanna von Salm (Buchwald). Born and raised in the small town of Srem, Poland, I was a professional athlete for five years before I signed a modeling contract and dedicated the next 15 years to my international modeling career.
As wonderful as my experience in the fashion industry was, it was also a time when I struggled with eating disorders, extreme stress, anxiety and panic attacks. At the age of 26, I decided that it was time to get my life back to a more balanced place and take much better care of myself. I began a journey of self-discovery and started experimenting with many healing modalities.
Out of everything I've tried, a regular meditation practice was the one thing that helped me the most. With my journey to balance and well-being, I developed a special interest in holistic health and spirituality.
In 2015 I became a certified aromatherapist from the New York Institute of Aromatic Studies, and in 2016 I started working at renowned NYC meditation studio, Inscape, as a meditation facilitator. As I developed a strong spiritual practice, I found it very healing to discuss my issues openly with others. I invite you to experience healing conversations as shared in Real Women, Real Stories (click HERE and HERE).
I organically became an advocate for change in the field of eating disorders in the fashion industry and a mentor to others in eating disorder recovery tools and mindful living. After having my first child in 2017, I decided to dive deeper in the world of meditation and become a certified teacher from the 1 Giant Mind Training Academy so I can finally share this powerful tool with others.
I am currently based between Southampton, NY and New York City.
Please take a look at the services I offer, and don't be shy to say "hello" via the contact form. I'm looking forward to meditating with you!